Join our E-Mail Newsletter to stay up to date and receive valuable information.
Holistic Strength Training Course
Strength training aims to change and improve the body and thus its performance and health. Also, it should give you more freedom to move freely and therefore support your practice and daily life. The improvement of physical potential is always related to the topic of strength. The ability to generate force against gravity or an external resistance is ultimately nothing other than one of the essential prerequisites for effective interaction with our environment.
This course is taught by Joseph Bartz & Jonathan Schmid.
In this comprehensive workshop, stretching over several months, we want to unify the concept of strength and look at what strength training is and how it is approached in our practice.
The workshop consists of a theoretical and a practical part, which run parallel to each other over the months. In the theoretical part, we will cover important terminology and basic training principles based on the concept of stress/recovery/adaptation. Further, we will discuss what strength is, why we train it, and how we train it. Based on this, we will get into programming strength training in addition to the practical, self-experiential part.
The practical part is about experiencing how strength training works and what benefits it can bring. It is essential for us not just to build up pure strength, which is then just there, but above all to understand how we can use it. So the strength training you will learn in this course aims to build up the strength that serves as a supporting element for freedom of movement and health.
Our six-month workshop, "Holistic Strength Training" is aimed at all those who work in the field of movement, sports, and prevention; such as fitness and personal trainers, yoga instructors, course leaders, movement and physical therapists, as well as doctors. This course is suitable for professionals, people that want to start their coaching practice, and career changers. Participation for a deeper understanding of one's practice without a professional background is also possible. Formal education in movement is not required for participation.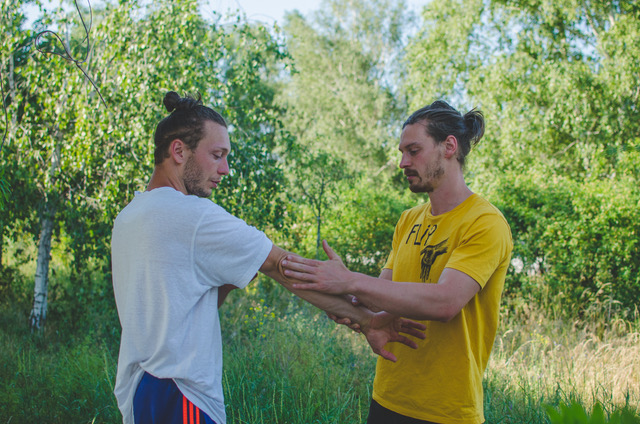 Concretely
In addition to the theoretical material, each participant receives an individual training plan. It follows a logical progression that starts at your current strength level and develops greater strength and complexity.
- 6 months duration, starting 09th of October, ending 10th of April.
- A starter meeting online (Introduction, announcement and anamnesis)
- An ending weekend offline in Berlin (training, discussions, Q&A, putting everything together, follow-up); online participation is possible, as we will stream the whole weekend for the participants that cannot come to Berlin.
- 2x90 minutes Feedback Sessions online each week (evaluating the training, deepening your understanding of the material and answering questions)
- An individual training plan, adapting every 4–6 weeks (training sessions, descriptions, videos, schedule)
- Through this comprehensive supervision and accumulated attendance time over the six-month duration of the training, we aid the participants' practice and enable them to instruct the material with confidence in the future.
Since it is crucial to set a continuous-recurring stimulus to initiate an adaptation process, each participant must invest at least 3 hours per week into their training.
The workshop material includes:
- Principles of training
- Principles of teaching and learning
- Structure of exercise instruction and lesson planning
- Comprehensive strength training (body weight, weighted)
Basic Strength (the "meta-competence "of our comprehensive training)
Ring Integration (strength through destabilization)
Skill Strength (strength & balance)
Organic Strength (strength "outside the box ")
- Strength specific coordination training
- Joint Preparation
- Basics & specific anatomy and body knowledge
Upon successful participation in the sessions and conscientious execution of the training, the participant will receive the "Holistic Strength Trainer" certificate.
Start and End
- Start 09th of October 2021 9 a.m. - 2 p.m. online
- End 9th to 10th of April 2022 offline in Berlin or online
Note: We will discuss the dates of the weekly meetings with all participants during the first virtual meeting on October 9th 2021. Each week there will be a meeting at noon and a meeting in the early evening. All sessions are recorded, so missing a session is never a problem, as you can watch the recording after.
Price
Total payment until October 1, 2021:
2000,00€
Installment payment until April 1, 2022:
6x 350,00€/month