Floorwork and Supporting Acrobatics - Workshop June 2022
3-day Workshop "Floorwork and Supporting Acrobatics" in June 2022

24th to 26th of June
Start: Friday 8am
End: Sunday 3pm
Price: 400€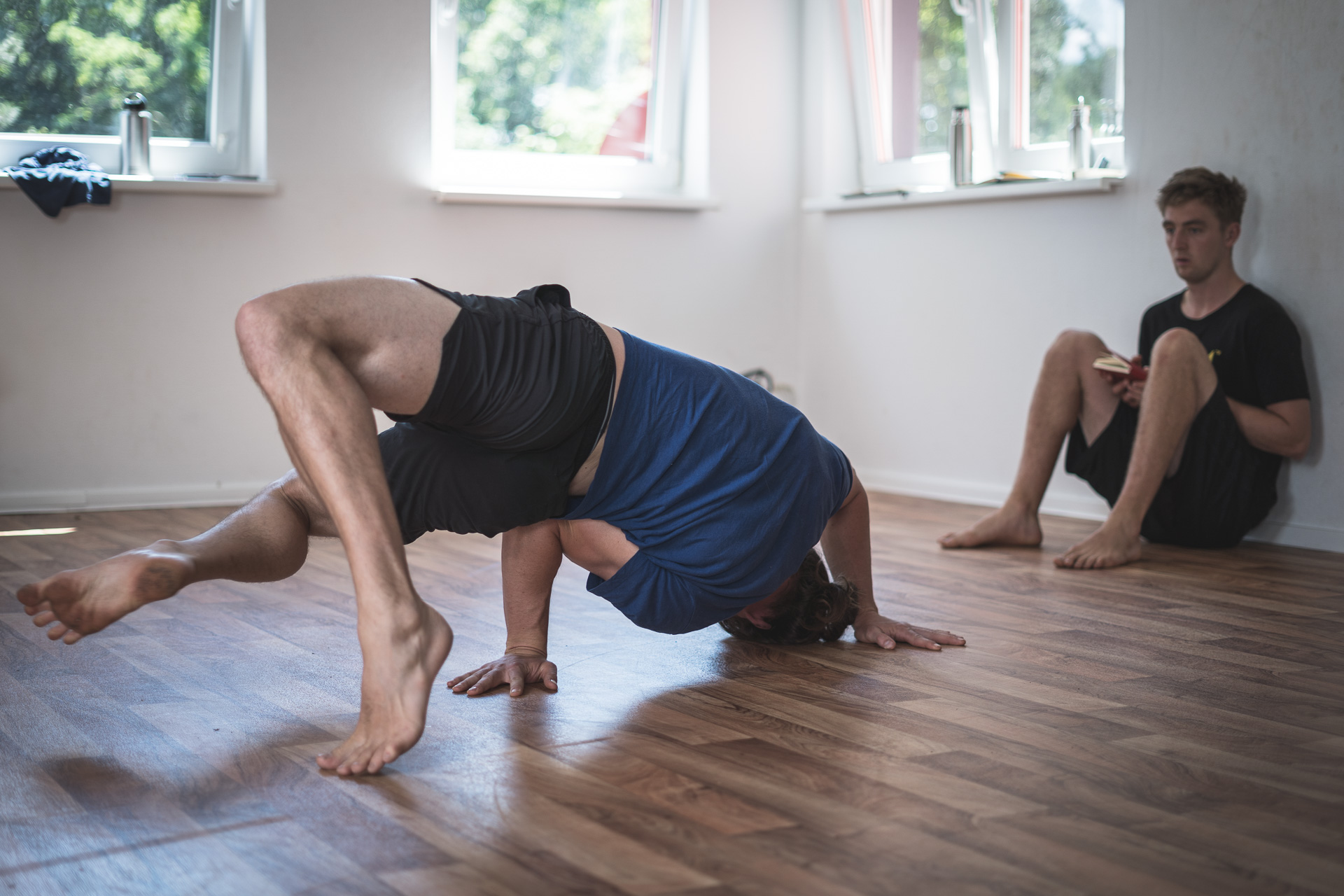 Photo: Andy Day
This workshop consists of two main topics: Floorwork and Supporting Acrobatics.
The workshop will be taught by Joseph Bartz and Jonathan Schmid.
The two topics will be combined in the workshop, aiming to create a global understanding where principles and exercises from the floor support the acrobatics and vice-versa. However, for the purpose of clarity, you will find below the description of the topics presented separately.
Floorwork

This part of the workshop is about developing freedom of movement in situations close to the floor. Joseph divides floorwork into three planes: the quadrupedal plane (on all fours), the sitting plane, and the lying plane.
Each plane represents its own movement worlds which affect our physis in different ways. We progress from individual movements to sequences of movements and then to free movement on the floor. Thus the focus is on developing the movement repertoire and movement understanding in order to allow for moving freely.
Floorwork creates strength, relaxation, balance and mobility. It can be an important part of a wide-ranging movement training. In our culture, movement close to the floor is very poorly developed. Many people have problems even getting down to the floor. The freedom of movement at the floor level, however, provides quality of life.
The workshop contains:
- Movement repertoire in the three aforementioned planes
- Strength, balance, softness and mobility
- Movement principles
- Combining and linking movements together
- Creating sequences and flows
- Going into improvisation and freedom
In this workshop, we introduce the participant into a world with thousands of movements and innumerable possibilities.
Supporting Acrobatics

This part of the workshop deals with the integration of acrobatics. Acrobatic elements can give a practice whole new possibilities for creativity, exploration and growth. Jonathan divides acrobatics into different sub-styles: Hand-Down-Acrobatics, Bridge & QDR Acrobatics, Rolling & Falling Acrobatics and Aerial Acrobatics.
Each style uses and trains different qualities such as mobility, strength, explosiveness, air-sense, spatial orientation, softness and lightness. In general acrobatic movements build a great amount of coordinative and conditional skills. In addition, it can serve as a tool to dissolve mental blocks and certain fears. I have learned that the individual approach is more important than the movement itself. Many fears in this area are related to confidence in one's physical capacities or a general lack of understanding of a movement.
Therefore, this workshop is intended to provide a generally sensible approach to complex movement patterns. We will look at how to train your eye and understanding: What is important to perform movement XY; what is required? - And how can I break this element down and build it up in a way that makes sense for me? What are some useful drills to train the specific requirements? After that, acrobatic movements will no longer seem unachievable, but will provide a clear path of practice.
To not make it too confusing and overwhelming, this workshop focuses on the so-called "hands-down acrobatics". This refers to movements in which you use your hands as support points for your center of mass. This is based on the cartwheel, which is a door opener into this world of acrobatics.
The workshop contains:
- Understanding acrobatics
- Weight shifting & pendulum principles
- Preparing & building archings
- Concepts to deal with fear
- Technical integration
- Useful floor integrations: pivots & diving
- Open form: discovering connections
No special acrobatic or dance skills are required, nor do you need to be particularly mobile or overly strong. Some upside-down experience (basic handstand practice or similar) is an advantage, but not a requirement.
If you have any questions, please write us at anmeldung@josephbartz.de.
3-day Workshop "Floorwork and Supporting Acrobatics" in June 2022
24th to 26th of June
Start: Friday 8am
End: Sunday 3pm
Price: 400€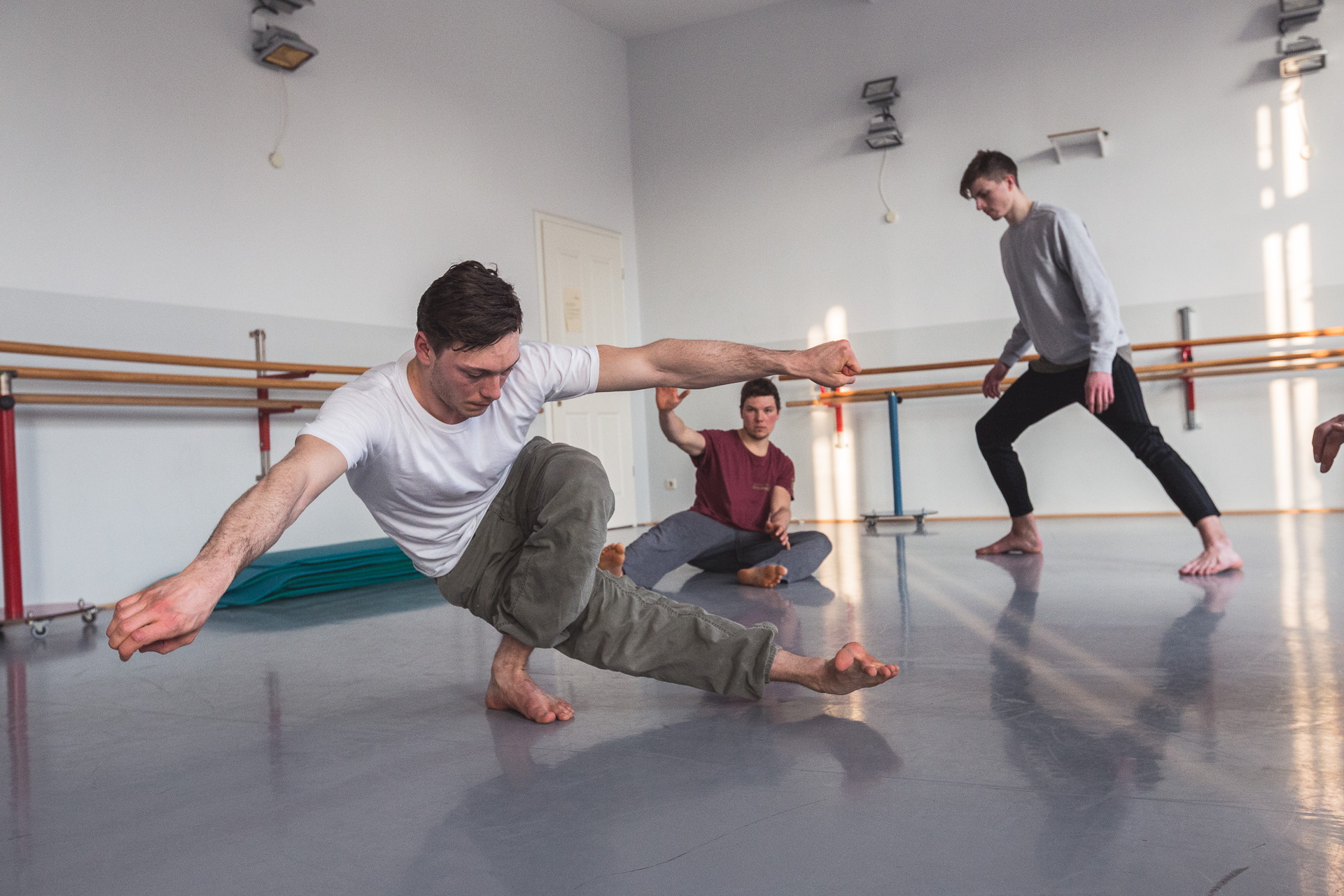 Photo: Andy Day