Movement for Health - Workshop August 2020
1 Day Workshop "Movement for Health" in August 2020

29th of August
Start: Saturday 10:00am
End: Saturday 05:00pm
Location: Movement Bielefeld
Prices: 150€/125€
"Movement for Health" is a one day workshop in which we share our knowledge about staying pain free and gaining freedom of movement. For this workshop, we have compressed our experience, focusing on the essentials and showing principles that create long-lasting mobility. The principles are tried and true, whether they are used as preventative measures to avoid injuries and pain or as acute treatment.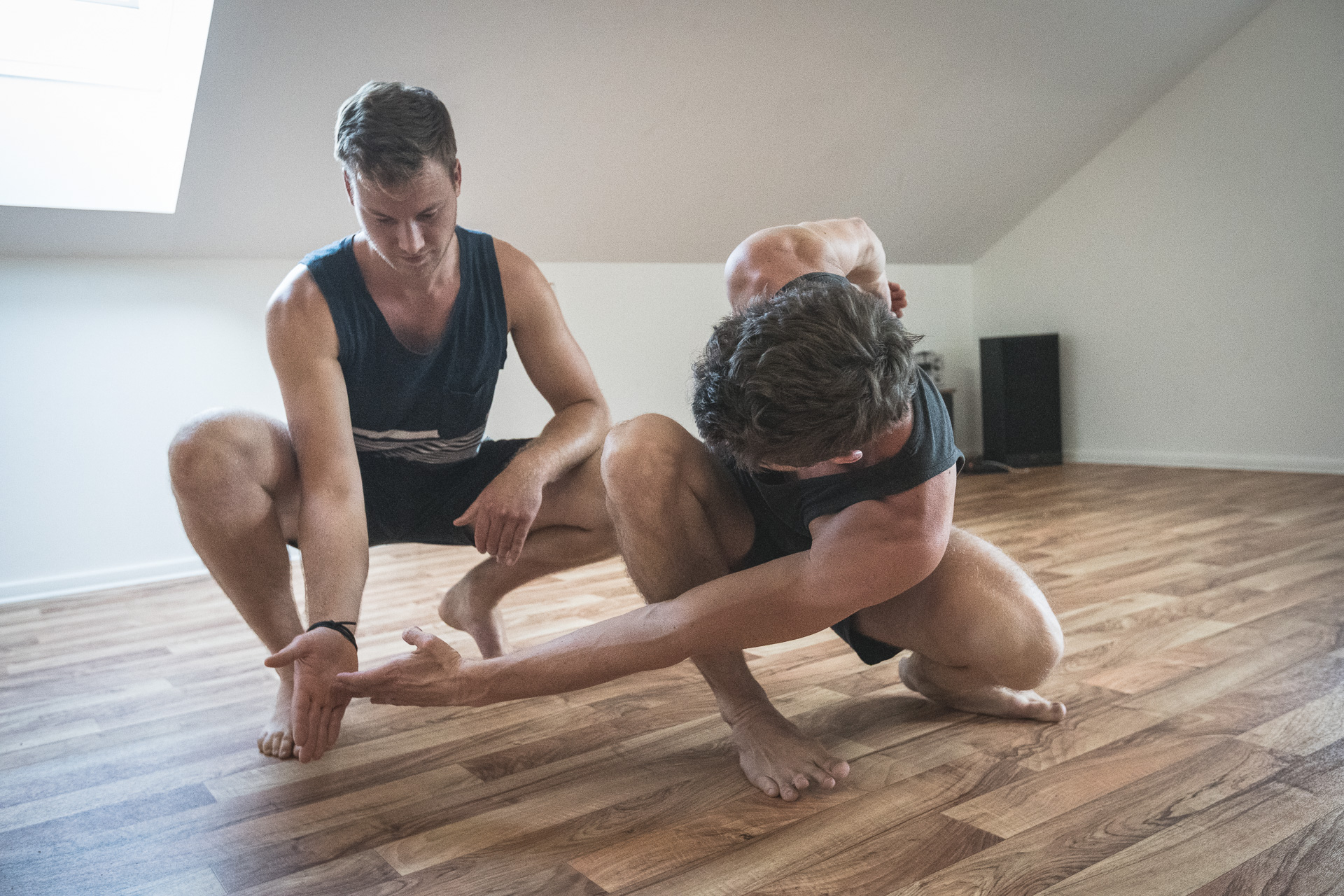 Foto: Andy Day
The idea
We have a problem in the current culture: there's hardly any movement taking place in our lives. Even those of us working physical jobs only perform a small spectrum of movements. Both lack of movement and repetitive, one-sided movement lead to pain and a lowered quality of life. Our answer? Movement diversity. Movement needs to be varied again. Diverse movement results in good health. We know that the person who sits the entire day breaks down. The human being will transform into that which it does daily. It is very adaptable. And thus, the person who only sits becomes a sitting person. But we are not innately sitting persons. Our physis requires movement. If we don't get it, we stiffen and receive pains. Just the same, we know that one-sided movement creates a problem. The person who does the same things every day taxes the body in a repetitive way and will suffer from pains resulting from the imbalances created by the one-sided movement. In that regard it doesn't matter if one works in an office, as a craftsman or as an active athlete: one-sided movement creates problems at every level.
We help the people be healthy and pain-free. Precisely therefore we have compressed our knowledge to one day: in order to make it possible for as many people as possible to experience this knowledge.
This day is to be viewed as an introduction to the topic and will - insofar as is possible in one day - provide the materials required to live healthier through movement. Health and movement are synonyms.
Contents of the workshop are:

- Principles of health and freedom from pain through movement.
- Self-consciousness through awareness.
- Creation of an understanding of movement.
- Materials for the joints.
- Mobility training for a healthy life.
- Freedom of movement and how to attain it.
- Coordination training and brain health.
- Video resources for delving deeper into what has been learnt.
- Text resources for delving deeper into what has been learnt.
The entire workshop is based around the practical usefulness of the learned material. We provide clear ideas of what is to be done.